About Us – Organizing Committees
| | | |
| --- | --- | --- |
| Board of Directors | Executive Commitee | Youth Commitee |
| | | |
| Events & Activities | Agrawal Foundation | Membership Commitee |
| | | |
| Finance | Newsletter | Internet Communication & Mailing |
| | | |
More about board members……
Ved Aggarwal, M.B.B.S, D.C.H, F.R.C.P ( C ), is a physician, certified by American Board of Pediatrics. He did premedical from Hindu College, Delhi University with top position. He graduated from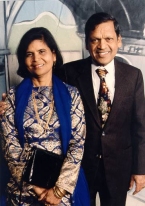 S. N. Medical College, Agra. He was born in Punjab. He came to Houston in 1972 after completing residency and since then he had been in private practice of Pediatrics.In 1999 he retired from practice. At present he is working part time in elementary school clinics; a combined program run by City of Houston, Health Department and Houston Independent School District to provide medical care to disadvantaged children in a school setting.He is married to Santosh Aggarwal. Santosh is a professional educator. She earned Master's degree in Sanskrit from Delhi University, B.Ed, from Agra University, and B.Sc E. from Drake University, Iowa. She is a Bilingual Mathematics teacher in a senior high school in H.I.S.D. She has been teaching in Houston since 1972. Ved and Santosh have a daughter Renu and a son Rajesh. Renu is a medical doctor, undergraduate of Rice University and medical graduate of University of Texas Health Science Center, San Antonio. After completing residency in Radiation Oncology at N.Y.U.( New York ), she was offered a teaching position of Assistant Professor at St. Jude Childrens' Cancer Center Memphis. After completing teaching assignment, she started private practice in radiation oncology. At present she is director of radiation oncology at Riverhead radiology group in Long Island, New York. Rajesh an undergraduate from Yale University and Ph.D. from Harvard in Business Economics is currently an associate professor of business administration at The Amos Tuck School, Dartmouth College, New Hampshire. He teaches MBA students.
---
Murari Agrawal, is a technical superintendent in Simpson Pasadena Paper Company which manufactures pulp and quoted paper. He obtained his Ph.D. in Pulp & Paper Engineering from the University of Minnesota in 1984, then worked as a postdoctoral fellow at the University of Notre Dame ( Indiana) and as a research associate in Auburn University in Alabama. He moved to Houston in 1988. His wife Bidhya, has a Bachelors degree, works part-time in the school district with handicapped kids and devotes her remaining time taking care of the family consisting of Manish (28) and Eakta (24).
---
Bharat B. Aggarwal,

Bharat B. Aggarwal, is a Professor of Medicine and Biochemistry and Chief of the Cytokine Research Section at the University of Texas, M.D. Anderson Cancer Center in Houston. His research involves Cancer Immunology and more recently on the effect of Indian Spices on the development of Cancer. He has authored over 200 original papers, six books, trained almost 50 scientists and has been invited to give lectures in over 30 countries around the world.  He obtained his Ph.D. in Biochemistry from the University of California, Berekely, did his postdoctoral fellowship at the University of California Medical Center, San Francisco and then worked for almost ten years in Genentech Inc., a biotechnology company in South San Francisco before moving to Houston in 1989. His wife Uma, has a business degree, works part time in the City Hall, and they have two boys Rishi & Moji, ages 16 and 14, respectively.
Durga Das Agrawal, is the founder and Chief  Executive of a metal fabrication and pipe supports company called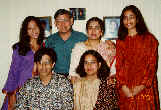 Piping Technology and Products. Durgadas has a Ph.D. in Engineering from the University Of Houston. Piping Technology currently employs around 300 people and is one of the leading companies in the world in its field. Durga Das and Sushila have three daughters and a son. The Eldest daughter Anu is an electrical Engineer from University of Houston and is currently working at Texas Instruments in Austin. Anu's husband Shirish, has a bachelor in engineering from MIT and a MBA from Harvard University. Shirish works for a large telecommunication company in Austin. Durgadas's son, Rakesh has finished up his bachelors with a double major in Computer Science and Mechanical Engineering from Rice University in May 1998. Daughter, Aarati has also completed her bachelor's degree in Chemical Physics and Asian Studies from Rice University and she will go on to graduate school in pursuit of a Ph.D. in Chemistry. Apu will be finishing her high school this year and already has been accepted in Rice University in early admissions.
---
Hari Aggarwal, owns a business for 12 years involved with the export of Ferrous/Non-ferrous scrap metals mainly to India, China, Taiwan, Korea and Indonesia. Since last two years, he has also ventured into oil field supplies and real estate investments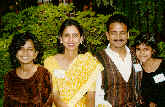 . Academically, Hari Aggarwal is a microbiologist and worked for Baylor College of Medicine for five years and published numerous research papers in international journals. He is married to Anjali and has two daughters, Neha and Charu. Hari and his family have been Houston residents since February 1980.
---
Devi Prasad Rungta,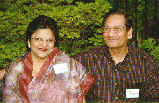 is a Professional Engineer and works as an engineering consultant. He hails from Ratan Shahar in Rajasthan and comes from a business family dealing in cotton yarn and saris. His brothers currently look after the family business. Mr.Rungta is an engineering graduate from Banaras Hindu University (batch of 1966). His wife Saroj, originally from Banaras comes from the Kejriwal business family of Mumbai. Saroj also runs a sari business in Houston. Their son Manish, a M.D., graduated from New Jersey Medical School and is currently doing a fellowship in gastroenterology at the Baylor College of Medicine in Houston. Manish is married to Manju who is from Banaras. ,Saroj and Devi Prasad Rungta's daughter, Sarita, has an MBA and is married to Anoop. Anoop is a PE with a Ph.D. in Earthquake Science. Sarita & Anoop live in the San Francisco area.
---
Naresh Mittal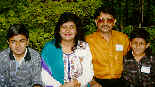 runs a Scrap metal export business under the name of American Trade Lines Inc. He has a Chartered Accountant degree from India. Naresh hails from Delhi and his wife Madhu assists in running the business. The Mittals have two children Varun and Anuj.
---
Anil K. Aggarwal,

runs a professional and broadcast video equipment business under the name Vidicomp Inc. Vidicomp has its main office in Houston with branch offices in Miami and Sarasota, Florida as well as in Santa Domingo (Dominican Republic). Anil also has the same business in India under the name Broadcast Equipment India Ltd with offices in Delhi, Chennai, Hyderabad and Mumbai. Anil comes from Rewari in Haryana. His wife Mukta comes from Delhi and assists in the business. They have two children-Amit (15) and Rani (11).
---
Former Committee Members:
Anita Gupta, comes from Rewari (Haryana) and has a Bachelors in Science. She along with her husband Vijay owns a chain of retail stores of consumer electronics under the name of Colonel Video. Her husband, Vijay is a chemical engineer from IIT Delhi. He takes care of the telecommunication business as well as assists Anita and brother Ajay in running Colonel Video. Vijay and Anita have two daughters – Shivani (17) and Neha (13), who attend school in Houston.
---
Govind Agrawal, comes from Madhya Pradesh. He owns several franchises of a fast food chain in Houston area. His wife Rani helps in the business. Govind & Rani have 3 children – Manish (13), Manjul (8) and Shilpa (6). All three children attend school here in Houston.
---
Pushpa Gupta, is a physician (MD, MS). Her husband Krishan L. Gupta is also a physician (MD,F.A.B.F.P., C.A.Q, M.P.H) with a specialization in Geriatrics and is an Assistant Professor in Baylor College of Medicine, Houston. They have four children; Nalini (22) is a first year medical student; Neeraj (21) is a senior in John Hopkins University; Namita (13) is in middle school and Natasha (10) is in Elementary school.